About Kate
Kate Hilton is the bestselling author of THE HOLE IN THE MIDDLE and JUST LIKE FAMILY.
She also co-authors a non-fiction blog, THE PEN PAL PROJECT.
Before turning to fiction, Kate worked in law, higher education, public relations and major gift fundraising. She has an English degree from McGill University and a Law degree from the University of Toronto.
Kate lives with her two sons in Toronto, where she is working on her third novel.
---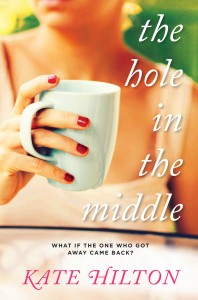 Following its release in November, 2013, The Hole in the Middle spent 11 weeks on the Globe & Mail bestseller list, and was featured as Walmart Canada's "Read of the Month" in April 2014. The Hole in the Middle will be released by NAL Penguin Random House in the U.S. in January 2016.
Reviewers have described The Hole in the Middle as follows:
"As moving as it is entertaining, this Canadian novel is crammed with funny, truthful moments that will strike a chord with over-extended women everywhere." (Hello! Canada)
"Full of things that are not said enough…. In particular, Hilton captures and distils the slight but constant ripping at the seams that can happen in a marriage when there is simply no time to nurture it. She writes about matrimony with rare honesty." (National Post)
Kate is an experienced and regular media contributor. She has appeared on Breakfast Television, CBC Early Edition, Global Morning, CTV Morning, and other local and regional shows.
Her book and her ideas about the "having it all" generation have been featured in Hello! Canada, Canadian Living, CBC Canada Writes and The National Post, among others. She writes a regular blog for The Huffington Post. She is a frequent speaker at private events, most often to groups of professional women.